Haunted House! Hospital of Horror! Explosive Cosplay Runway! Ghost Face Pumpkin Carving! Welcome to SuOn Halloween Event 2021!
Haunted House! Hospital of Horror! Explosive Cosplay Runway! Ghost Face Pumpkin Carving! Welcome to SuOn Halloween Event 2021!
 Author: Carla Burton          
Translated by Amy Liu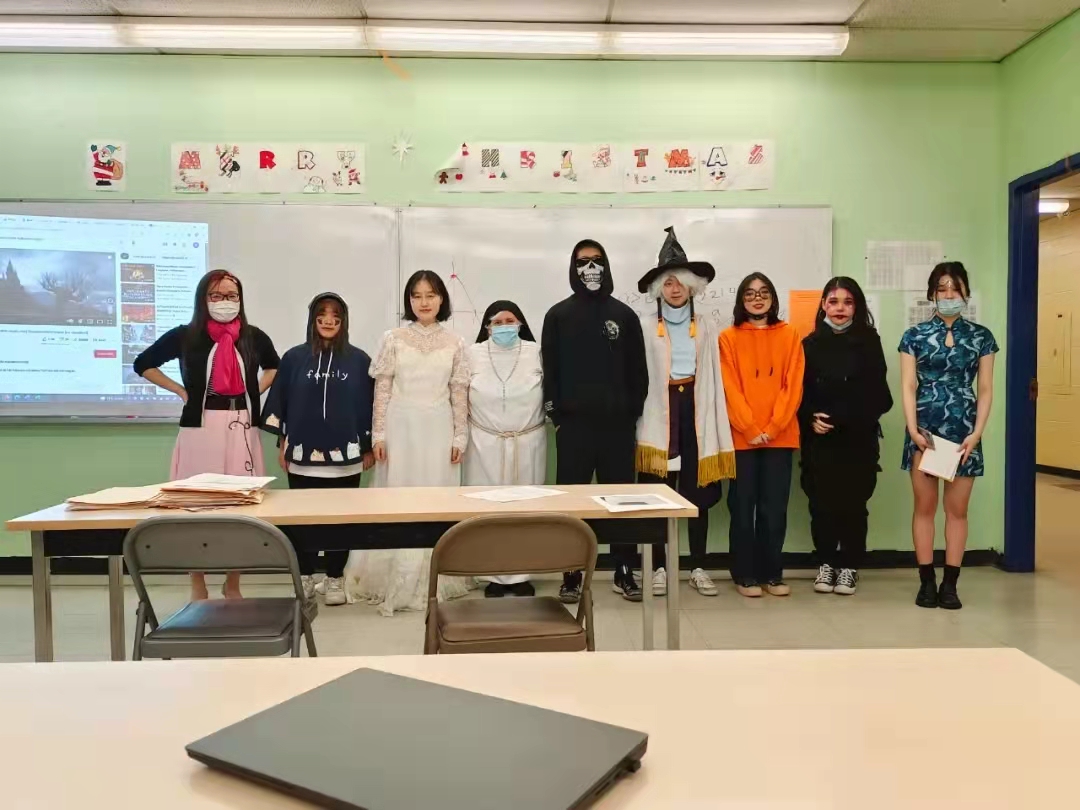 The end of October feels like the result of  a battle has come to light. Toronto is getting a few whiffs of fall and winter from the oppressive heat. At the end of this golden season, students in SuOn had finally come to this exciting and wonderful holiday – Halloween. There are many fun and enjoyable activities for students to do and watch such as the costume contest, pumpkin carving, and the haunted house.
On Friday morning, a group of ghosts and ghouls came to SuOn campus along with many game and anime characters. Even the principal herself dressed up as a nun and went to each classroom to distribute the Halloween parcels. She also took pictures with students who dressed in their unique Halloween costumes. This brought everyone close together, and we all had a good time!
In the afternoon, with music playing in the cafeteria, students from the dance club and music club gave a wonderful performance for everyone, which won the applause from all.
The exciting costume show and cosplay contest began! Students with unique and outstanding costumes came on the stage to show off their interesting costumes. Let's take a peek of their glamour! 
Tap it to see the explosive cosplay runway
Our judges took scoring very seriously:
Teachers were unwilling to be left behind. They were dancing with the principal while dressed as vampires, surgeons, and other characters. This moment drew laughter and cheers from the audience. The costume contest ended with loud cheering and laughter.
Pumpkin carving is also an old tradition of SuOn Halloween events. Using pens and carving knives, students demonstrated their artistic inspirations on the pumpkins. Let's take a look at the pumpkins that the students carved! The House of Horror is back, come if you have guts! The gloomy basement, the deep corridor, the dark red lighting, and the dim candles made people feel a chill running down their spines.
What are the secrets hidden in hospitals of horror? What clues are hinted at about the missing person in the letter?
Don't look back once the adventure begins!
The haunted house received a lot of support from students. There were many students who volunteered to dress up as ghosts and had many creative ideas to scare people in the haunted house other than the leading members. The immersive feeling extended all the way and uncontrollable screams could be heard constantly!
This exciting and wonderful Halloween came to a successful end! Everyone's efforts made SuOn's life full of enthusiasm and joy. We hope everyone enjoyed the different scenery and felt the excitement of the various holidays while studying abroad.  
We'll see you next Halloween!